Solving the Sports League Funding Problem: Here's Why the American Arena League Called on CXSports
Money is an age-old problem that plagues just about every sports league. Indeed, it's the problem that eventually sunk the once-great Arena Football League (AFL). Realizing it would need a leg up in this department, AFL successor, the American Arena League has called on CXSports — a sports marketing technology company with an innovative solution to this age-old sports league problem.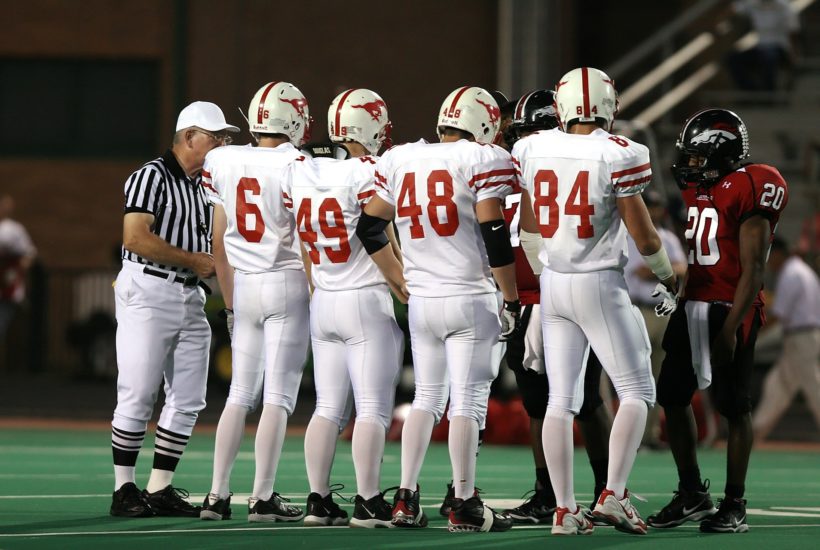 It started like all great ideas — on the back of an envelope. Specifically, it was a 9 x 12 manilla envelope, and it was sketched out in the midst of an indoor soccer match at Madison Square Garden. This was the birth of the Arena Football League (AFL), an indoor American football league that, despite its early success, would meet with eventual bankruptcy.
The post-mortem analysis shows a variety of problems plagued the league; multi-million dollar lawsuits, unpaid bills, failure to attract talent… the list goes on. But getting to the core of the problem is a much simpler affair.
To quote Bill Shea's analysis in The Athletic, what ultimately killed the AFL was nothing more complicated than "a simple lack of money." After all, given sufficient resources, other leagues and businesses survive the aforementioned problems all the time.
But what is it that sets those who thrive apart from those who crash and burn? Is it just a matter of dumb luck? Should sports leagues just cross their fingers and pray that billionaire backers and mega sponsorship deals will start rolling in? Or is there something more?
The answer, of course, will never be simple. But that's not to say the problem can't be solved. All it takes is a little creative thinking and a whole lot of hard work — a challenge potential AFL successor American Arena League (AAL) is now looking to tackle with the help of sports marketing and technology platform CXSports.
A Seemingly Inescapable Problem for Sports Leagues
It's a problem that's all too familiar for anyone involved in amateur and semi-professional sports. Constant battles for sports team sponsorships, fan attention, and talent conspire to form an inescapable vortex of chickens and eggs. Fans want to see talent. Talent wants to get paid. Sponsors want to see fans. The cycle goes on.
But no matter how you configure the components of the problem, the base of it remains the same. Teams need money to survive. This means they need sponsors. But to get sponsors, they need to show they can deliver a return on investment.
Traditionally, this has meant that sports leagues must first prove their worth to any potential sponsor. In most cases, that means the league must show it has a level of fan attention proportionate with the dollars being requested. Either that or the league must show it has the ability to deliver on a dream.
In any case, it's a hard problem. Finding a backer ready to risk big dollars on the promise of a dream requires just as much luck as talent. And demonstrating fan attention is almost impossible when the bulk of the attention is fragmented across thousands of channels such as individual players' various social media profiles, team websites, and modest game attendances.
At best, many sports leagues are left scrapping over small-time sponsorships. Often, these will come from smaller businesses willing to chip in a few thousand dollars, or a 'major' sponsor who's willing to provide some of its products or services. Often, it's just enough to scrape by when combined with club dues, but it's barely enough to thrive.
Digital Marketing Offers New Opportunities
In many ways, getting a sports league off the ground and sustaining it is akin to publishing newspapers and magazines. It's hard to attract writers without money to compensate them. It's hard to attract an audience without good writers. And it's hard to attract advertisers without the audience.
But when the internet came along, advertising changed, especially once things like Google Ads and the Amazon Associates Program arrived. Suddenly, small-scale media outlets had access to an unlimited supply of advertisers willing to advertise in their publications, and even single-person blogs were suddenly able to make serious money.
So why hasn't the internet changed the way smaller sports leagues raise money?
This is the driving question that led to the creation of CXSports, the new partner of the American Arena League, as hinted at by a handful of keywords from the title of the press release announcing the partnership: "digital asset monetization."
Looking a little closer at the announcement, we see that the agreement is for AAL's use of CXSports' "wide-reaching performance-marketing modules, which are conceived to drive incremental revenues by leveraging digital sports assets on a location-agnostic basis.
What's All This Stuff About Performance Marketing Modules and Digital Asset Monetization?
The secret to the solution that CXSports brings to the league fundraising/sponsorship problem rests on leveraging the content that they (and their teams and players) are already publishing: social media posts, websites, live streams (in some cases), etc. In other words, "digital assets."
As for the performance marketing modules component — this is a packaged up, easy-to-use version of what blogs and other online media outlets have been doing for well over a decade now. In other words, promoting highly-relevant products and services to their audience via techniques like naturally embedded links.
How Does this Solve the Sports League Money Problem?
If we take a look at how much money other online entities are making just through their advertising and affiliate marketing efforts, we see there is some serious money to be made here. Even small-time niche bloggers with tiny audiences (with the right monetization techniques) can quite easily earn up to $10k per month. And that's just the small ones.
However, the key here is in the monetization techniques used. Unfortunately, slapping a bunch of Google Ads on a page is far from optimal, and usually delivers grossly underwhelming results.
The reality is, that the most successful online moneymakers tend to rely on a number of techniques, many of which are "performance marketing" type deals (also known as affiliate marketing.) You see this all the time when, for example, you land on a recipe page. In addition to the recipe, you're usually also greeted by Amazon links for cooking utensils and other highly-relevant offers—these make their publishers big money.
So if there's big money involved here, why aren't more sports leagues doing it?
CXSports Solves the Hard Part of the Problem for Sports Leagues
While earning money like this is great, it also requires a lot of work. Online content publishers have to source affiliate programs, apply to them (which usually requires lengthy application processes), and then keep up with ongoing administration. They also have to work out how to integrate and track their new affiliate links as well as how to implement technology in the back end.
This is the problem CXSports solve. It provides SaaS modules to leagues, clubs, and players to automate all this. CXSports manages the advertiser/affiliate relationships, the technology backend, and the disbursement of payouts. All the sports leagues, clubs, and players have to do is keep doing what they do best — entertaining their fans with photos and other updates.
__
(Featured image by Pixabay via Pexels)
DISCLAIMER: This article was written by a third party contributor and does not reflect the opinion of Born2Invest, its management, staff or its associates. Please review our disclaimer for more information.
This article may include forward-looking statements. These forward-looking statements generally are identified by the words "believe," "project," "estimate," "become," "plan," "will," and similar expressions. These forward-looking statements involve known and unknown risks as well as uncertainties, including those discussed in the following cautionary statements and elsewhere in this article and on this site. Although the Company may believe that its expectations are based on reasonable assumptions, the actual results that the Company may achieve may differ materially from any forward-looking statements, which reflect the opinions of the management of the Company only as of the date hereof. Additionally, please make sure to read these important disclosures.